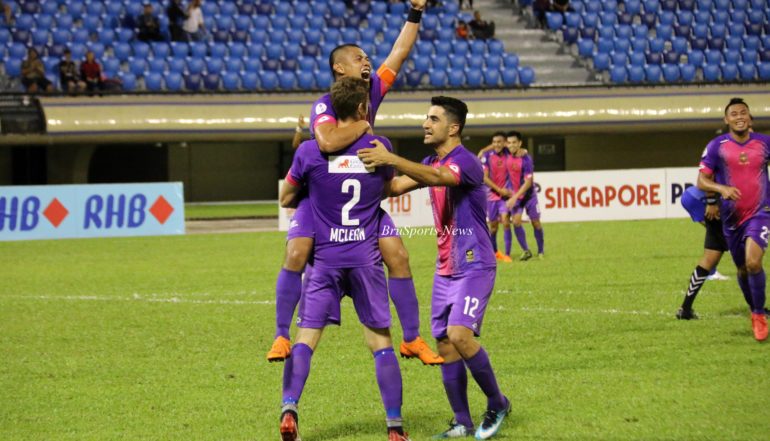 SKIPPER Shahrazen Said netted a 90th minute winner to give DPMM FC a 3-2 win over Hougang United FC in the Singapore Premier League last night.
Md Hendra Azam Md Idris had played a short freekick to Najib Hj Tarif, who then put a cross into the area, for Brian McLean to head on target at the Hassanal Bolkiah National Stadium in Berakas.
However, his effort was kept out by Hougang goalkeeper Khairulhin Khalid but the rebound fell only to as far as Shahrazen to fire the ball in from inside the crossbar to extend DPMM FC's unbeaten run to six games.
DPMM FC coach Rene Weber felt it was a much deserved victory after switching gears in the second half.
"If you draw this game, you will become crazy because we played to win and we had more chances to score," he added.
"Second half we played like how we are supposed to play at home. We deserved to win this game and get the three points," said Weber after the triumph.
Volodymr Pryyomov had given DPMM FC the perfect start after firing home the opener – his 12th of the season – in the sixth minute.
It was cancelled out by Fabian Kwok just after the half hour mark to see both teams deadlocked at 1-1 at halftime.
The hosts went back in front in the 63rd minute with Adi Said firing from just inside the box to beat Khairulhin.
The Cheetahs levelled once again after a superb freekick by Fareez Farhan into the top right corner to beat the outstretched Haimie Anak Nyaring in between the DPMM FC sticks.
Pryyomov came close to putting DPMM FC ahead again six minutes later but Khairul did well to deny his freekick from 20 yards out before the late winner.
SOURCE
Photo Credit: Brunei Sports News